Lambdoma Harmonic Keyboard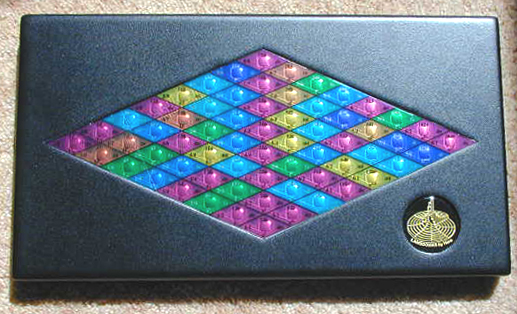 My dream was to realize the application of my theories in the health and musical domains.
Recently I have accomplished a breakthrough in making the lambdoma a concrete instrument of healing and auditory pleasure. With the help of engineers, software programmers, musicians, and electronics manufacturers this dream has materialized in the Pythagorean Lambdoma Harmonic Keyboard (PLHK).
Based on early prototypes of this revolutionary instrument we have demonstrated its unique effects on human well-being and musico-spiritual evolution. Articles and testimonials from well-known authors on sound healing, microtonal composers, and university professors are available upon request.
If you have access to IEEE Explorer you can download The Lambdoma matrix and harmonic intervals, B. Hero and R. Foulkrod, IEEE Engineering, Medicine and Biology Magazine, Vol 18, pp. 1999. You may access several other articles on the Lambdoma and its relation to this instrument on MedLine (Search keyword: Lambdoma).
Players of these keyboards have experienced increased physical comfort and spiritual awareness within which they were able to learn answers to their questions including their life's purpose and how to become more spiritually aware. The diamond-shaped Keyboard, with 64 keys, produces harmonic stereo intervals, with the second tone relating to the player's chosen fundamental, based upon the whole-number ratios of the Lambdoma Matrix. When accompanied by a PC (not included) the keyboard may used as a device for sound therapy, musical composition and performance. The keyboard is fully software programmable and is both DOS/Windows and Amiga compatible. Additional software will be available for programming the midi interface. The unit comes with a user manual. Eight color-coded overlays placed over the keys provide visual cues on musical notation, frequencies, harmonics and solfegio encoded into the keys. The versatile electronic keyboard is constructed in an attractive and durable diamond-shaped, aluminum encasement suitable for on-the-road use. The purchase price for the keyboard is $2000.00. These keyboards are in limited supply. Orders can be placed immediately by voice 207-251-8361, or by email Barbara Hero.
Item K1
17" by 9-1/2" by 1.5" unit, plus 8 overlays, and user's manual.
PRICE: US $4000.
The PLHK is a harmonic microtonal musical instrument.
The PLHK is a physiological and psychological tool for therapists.
The electronic circuit of the PLHK is based upon a harmonic array of ratios.

THE PLHK KEYBOARD has the unique capability of sounding any musical interval in a matrix of harmonic frequencies in the audible range. Its diamond-shaped matrix holds 64 keys in one quadrant. A total of 256 keys in any microtonal keynote may be played. Each keynote produces harmonic stereo intervals relating to the player's chosen keynote. Overlays of the three other quadrants in colors and frequencies of the musical notes (in a C scale) are included. Since another set of overlays of the intervals are based upon geometrical ratios, the shapes of the musical intervals may be seen as the keys are pushed. A user's manual is included on both a CD and on a floppy disk.
THERAPISTS and clinics will find that many clients playing the keyboard show stress reduction, access to their inner self, balancing of the physical, mental, emotional and spiritual bodies and relief of pain. Over two hundred and fifty players of these keyboards have experienced increased physical comfort and spiritual awareness within which they were able to learn answers to their questions including their life's purpose.
MUSICIANS will have the ability to play microtonal music in real time and experience harmonic and sub-harmonic interval sounds. A midi software program "Fractal Tune Smithy /Lambdoma" composed especially for the Lambdoma Keyboard enhances the musical capabilities of the keyboard.
Barbara has also developed a 4-quadrant Harmonic Keyboard. Please visit Lambdoma.com for more details or follow this link.
WHAT OTHERS SAY
ABOUT THE PYTHAGOREAN LAMBDOMA HARMONIC KEYBOARD (PLHK)

Revised January 24, 2004
Copyright © Barbara Hero 1996-2011
---
Web Pages Updated by: Kristi Borst. Ad·Mark·Com